AME Rainware System components are designed, manufactured and custom installed to effectively channel the water running off your roof. That's important to maintain the appearance of your home and the landscaping, decking and concrete around it.
But AME Rainware Systems give you even more. With ColorConnect, our unique color matching system, we offer rainware that matches, complements or contrasts with your AME vinyl siding for a complete custom appearance.
AME rainwear systems include gutters, elbows, downspouts, miters, and other accessories. Gutters are fabricated on site by your installer from color-matched gutter coil to give you a complete system.
Our 20-year Limited Warranty* protects you when the rain pours down.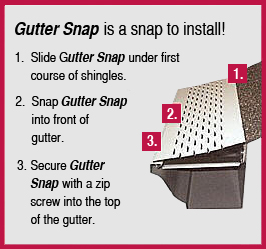 HOW IT WORKS:
Leaves, seeds, twigs and debris lay on top of the Gutter Snap panel and are blown off by the wind.
Rainwater flows down your roof and drains through the patent-pending Aluma Flow Louver System. Gutter Snap has been tested to handle up to 28.4 inches of rainfall per hour.